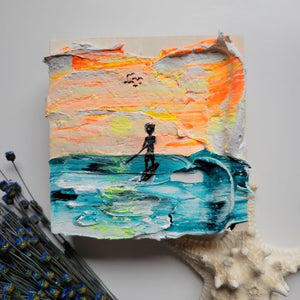 Acrylic & texture
5x5 gallery birch wood panel 
This piece was inspired by when my other half & me took a nice little local day vacation to Tiny, Ontario at the Balm beach resort, I saw a guy with a paddle board heading out to the horizon and I was just so in awe with sunset, and truly inspired to try  paddle boarding when I have the biggest fear of water, from my past, but one day I will conquer it. 
I created some inexpensive artwork for those who can't afford that big piece, everyone deserves a piece of an original from there favorite artists <3
Certificate of Authentication
Split payments available via pay pal Please contact me at courtney.studio@hotmail.com
 my canvases and paint are professional grade and are made using only the highest quality materials. Every canvas ready to hang or hanging material comes with as some paintings people see it differently . 

Paintings are signed and dated only on the back of the canvas. If you wish to have a signature on the front as well, please let me know prior to it being shipped out or pick up from the artist gallery.
If you have any questions, please let me know, I'm happy to answer them. Customer service is important to me so please let me know if there is any other way that I can assist you.