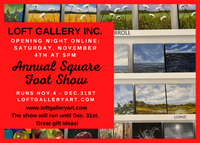 I Sold all 14 pieces!!!
Update: i have 8 more availabe !
I'm so excited to be a part of this show along with 130+ different artists with over 1000+ paintings in all different mediums! Put a reminder on your phone to get thst painting you love!
Click here to see!
Interested in a Commission ?
If you are interested in commissioning an abstract painting you've come to the right place. I have a really easy process - I only require 50% down deposit, rest of payment can be completed when painting is finished.   First, we will sit down together and discuss what your needs are.  I can even come to your place if you are worried about what might be the right size and/or work with your Interior designer to create a beautiful abstract art painting that will compliment your interior space and design.  When we agree on size, design, colour and price, I'll begin your original painting. 
When the your original painting is completed, I'll send a few photo for your approval and I'm 100% OK with making changes if you feel it's not exactly what you envisioned.  Finally, when you are perfectly satisfied, your brand new ONE of kind abstract art painting can be purchased!
Lastly, My commission arts are affordable, as there's no difference in price listed in my art gallery
Please Email me at Courtney.studio@hotmail.com , Lets create something magical!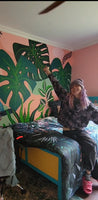 STOP THINKING ABOUT IT AND CONTACT ME TODAY
Trust me..... Your Walls will thank you
We could all use some happiness and I believe art is the cure
Canvas art & Mural art !